Stirrup Bending Machine
Machines for high productions of stirrups
STX16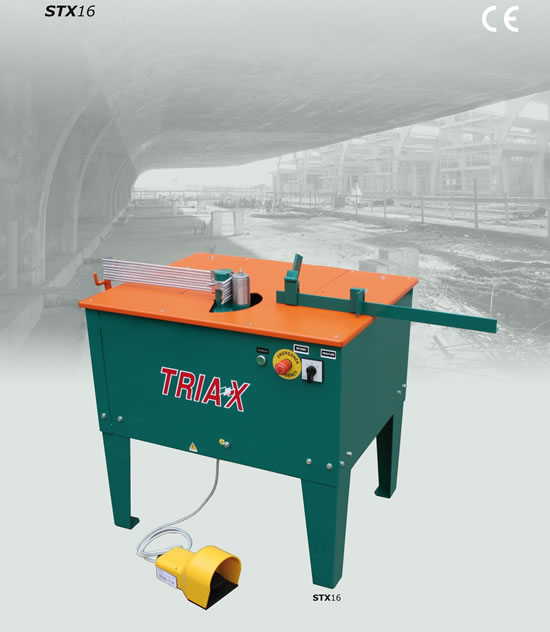 QUALITY AND SAFETY OF TRIAX STIRRUP BENDING MACHINE:
TRIAX produces rebar stirrups machines since 1993 with a technology that makes them very fast and reliable over time.
Our machines for high productions of stirrups have been designed to provide maximum efficiency to those who have to produce large amounts of brackets as they allow to bend simultaneously up to 9 rebars of 6mm diameter (see technical characteristics table).
TRIAX stirrups bender is 100% Made in Italy, we produce in our factory the whole machine (machining on CNC machines, welding, painting and assembly) and the high-quality components that we buy (electric motor, electric parts and so on.) are all produced in Italy from trusted suppliers with whom we work since many years.
Furthermore all machines are carefully tested before shipment, all this gives us the certainty that we can keep high and constant quality standards over time.
Our goal is to give customers the best service in both sale and after-sales ensuring rapid responses and very fast spare part shipments.
STIRRUPS MACHINE DESCRIPTION:
Worm reduction gearbox in constant oil bath that allows to carry any bending greatly reducing mechanical stress.
Regulation system that allows to accurately determine the bending angles of the steel stirrups.
Bending arm that after each bend automatically returns to the starting position.
Electric dual controls with foot pedal that allows great freedom of movement to the operator in selecting the most suitable working position in respect to the machine.
All electric controls work with low voltage 24V according to current regulations.
REBAR STIRRUPS MACHINE PRODUCED VERSIONS:
All TRIAX stirrup bending machines are designed and built according to the criteria necessary to meet safety requirements established by current Machinery Directive 2006/42/EEC.