Rebar Cutting Machine (Hydraulic)
Machines to cut concrete reinforcing steel bars
SX22HD - SX32HD - SX36HD - SX42HD - SX52HD - SX55HD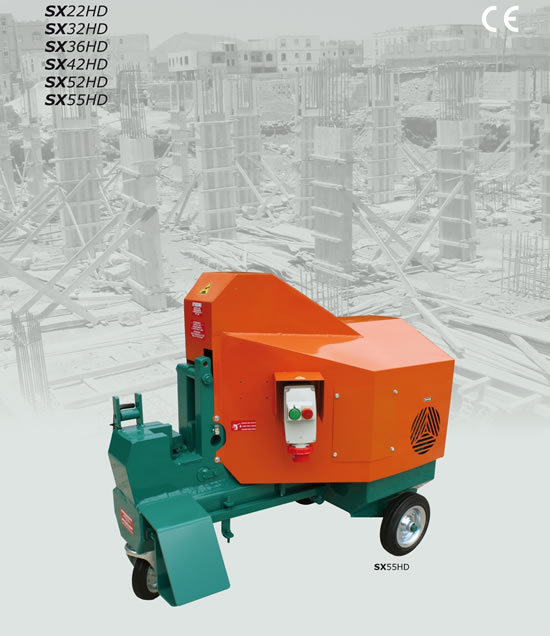 QUALITY AND SAFETY OF TRIAX REBAR CUTTING MACHINE:
TRIAX is specialized in the production of machines to cut concrete reinforcing steel bars since 1993.
The TRIAX machines are known on construction sites around the world for reliability and excellent performance very important things to increase productivity in the building sector.
Our reinforcement bar cutters are 100% Made in Italy in fact we produce them completely within our factory (CNC machining, welding, painting, assembly) and all purchased components (eg electric motors) are produced by Italian suppliers with whom we collaborate for many years.
All rebar processing machinery are subjected to a rigorous quality control during the production process and before shipment which makes us certain that we have very high quality standards and constant performances over time.
We guarantee our customers the best possible services commercially and in after sales with quick feedbacks and very fast parts shipments (all spare parts are always available in our warehouse).
BAR CUTTING MACHINE DESCRIPTION:
Our iron rod cutting machines are designed with high safety margins taking into account the most extreme working conditions where they will be used.
They are built with a sturdy welded frame on which it is installed an hydraulic power unit that drives a large piston and it is thanks to said hydraulic system that our machines develop a great working power that makes possible the cutting of reinforcing steel bars up to 52mm effective diameter.
Square blades made of best quality hardened and ground steel, they have 8 cutting edges (not 4 as rectangular ones) which makes them very durable.
Working safely with TRIAX rebar cutters! they have a very effective security system in fact if the pedal is released by the operator for any reason and at any time the machine immediately reverses and goes back to starting position and this makes it possible to avoid many accidents.
Emergency button which when pressed will stop the machine immediately.
Machines with "progressive cut" feature in full compliance with safety regulations since this type of cut avoids the jump of steel bars minimizing the risk of accidents. For the same reason the mechanical stresses are much lower and consequently there is the machine life lengthening.
REBAR SHEARING MACHINES PRODUCED VERSIONS:
All TRIAX hydraulic rebar cutting machines are designed and built according to the criteria necessary to meet safety requirements established by current Machinery Directive 2006/42/EEC.