Rebar Bending Machine
Machines to bend concrete reinforcing steel bars
PFX20 - PFX32 - PFX36 - PFX38 - PFX42 - PFX52 - PFX55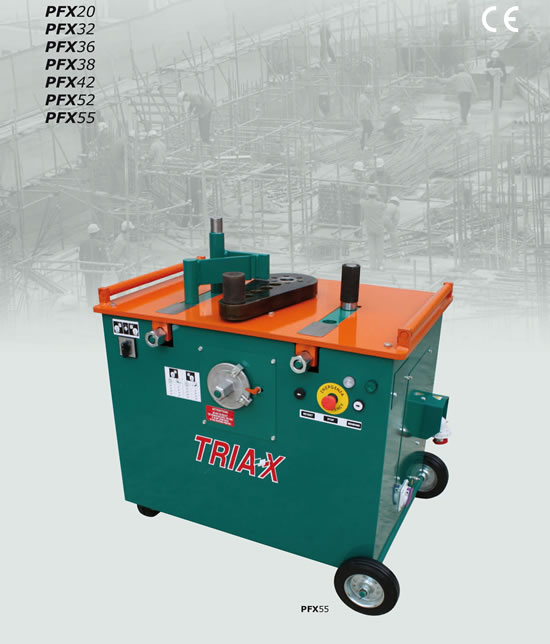 QUALITY AND SAFETY OF TRIAX REBAR BENDING MACHINE:
TRIAX produces electric bar bending machines since decades with a technology that makes very performing, reliable and safe.
Our machines to bend concrete reinforcing steel bars are designed to provide maximum efficiency and ease of use which is extremely important in modern construction and building sites.
Triax reinforcement bar benders are 100% Made in Italy in fact as well as producing in our factory the whole machine (machining with CNC machines, welding, painting, assembly etc.) also the first choice components we buy (self-braking electric motors, electrical parts etc.) are all produced in Italy from trusted suppliers with whom we work since many years.
In addition all the bar processing machines are fully tested before shipment and all this gives us the certainty that our rod bending machines have very high and constant quality standards over time.
Our goal is to give customers the best service in both sale and after-sales giving answers and shipping spare parts orders in very short time.
STEEL BAR BENDING MACHINE DESCRIPTION:
Self-braking electric motor characteristic that greatly extends the life of the motor that do not undergo electric shocks while reversing rotation.
Two-stages epicicloidal gear unit with gears in constant oil bath that allows to carry any bending reducing much the mechanical effort.
Automatic graduated regulator with which it is possible to accurately determine the bending angles, a much more accurate and faster system of the old system with holes around the bending disk.
Bending disk rotating in both directions, after bending the reinforcing steel bar or steel round bar will automatically return to the starting point.
Electric dual controls with foot pedal that allows great freedom of movement to the operator in selecting the most suitable working position in respect to the machine.
Safety micro switch on the door which, also with connected power, switches off the machine if the door is open as required by current safety regulations.
All electric controls work with low voltage 24V according to current regulations.
REBAR BENDING MACHINES PRODUCED VERSIONS:
Electric rebar bender as per EC norms. Designed and built following the criteria necessary to meet safety requirements established by current Machinery Directive 2006/42/EEC.
Electric rebar bender No EC.