Masonry Block Saw
Machines to cut marble, granite, all kinds of stone, concrete, bricks and refractory
4/350 - 5/400 - 5/600 - 5/650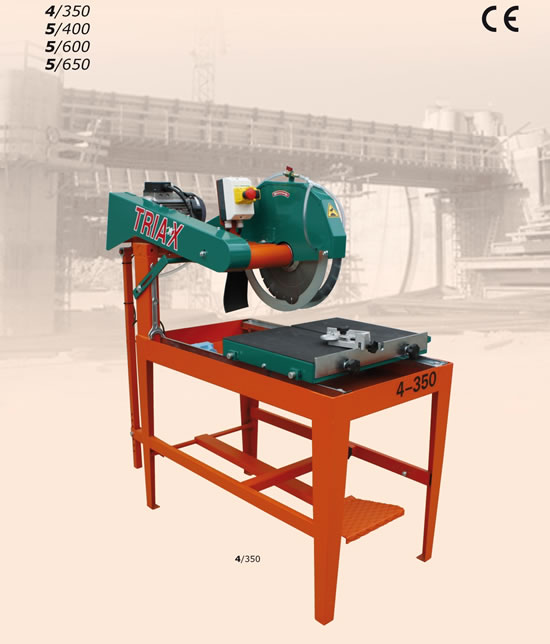 QUALITY AND SAFETY OF TRIAX MASONRY BLOCK SAW:
The masonry saw TRIAX is 100% Made in Italy!.
They are all produced in our factory (machining with CNC machines, welding, painting, assembly, etc.) and also the parts we buy, such as the electric motor and the electrical system, are completely manufactured in Italy by our historical suppliers from whom we buy always.
Additionally, all machines are thoroughly tested before shipping and this makes us confident that we have an excellent standard of quality.
The TRIAX masonry bench saws are used to cut any construction material for the building sector like Poroton, bricks, concrete blocks, refractory materials, marble, granite, stone slab, pavers, ceramic, porcelain gres, natural stones, tuff and prefabricated materials present in construction sites.
Their main features are to be extremely robust, versatile, easy to maintain and above all safe to use.
MASONRY SAW DESCRIPTION:
The block saws are manufactured with a supporting frame that consisting of a folded sheet steel tank which is welded to a tubular frame and to four support legs.
In the back of the frame is welded a sturdy vertical upright that supports the oscillating arm on which are assembled the AC motor, the electrical panel and the cutting disc with its sheet metal protection cover.
The frame itself also functions as collection tank for the water that with an electric pump is brought into the cutting area for cooling the diamond blade and dust elimination.
The single arm frame design allows the passage of large or irregular materials.
On the frame are assembled two galvanized guides bars (fully adjustable) that provide great accuracy on which slides the working table that supports the construction material to be cut.
For the 45° cut is necessary an inclined support device (optional).
The transmission of the motion from the electric motor to the diamond disc is obtained thanks to a reliable system with pulleys and V-belts that has the following advantages:
conferring upon a great cutting power to the masonry block saw.
makes it safer because the trapezoidal belts can slip in case of problems caused for incorrect use.
avoid the transfer of the motor vibrations to the diamond disc also when the machine it is used at maximum cutting height.
The paver saw has an electrical system that consists in a power outlet and an IP65 electrical panel on which are located the machine controls (start button, stop/emergency button).
MASONRY BENCH SAW PRODUCED VERSIONS:
All TRIAX masonry wet saws are designed and built according to the criteria necessary to meet safety requirements established by current Machinery Directive 2006/42/EEC.
Core Cutting Saw, Core Saw • NUOVA CAMET