Circular Bench Saw
Machines to cut wood
MA315LR - MX350LR - EURO350LR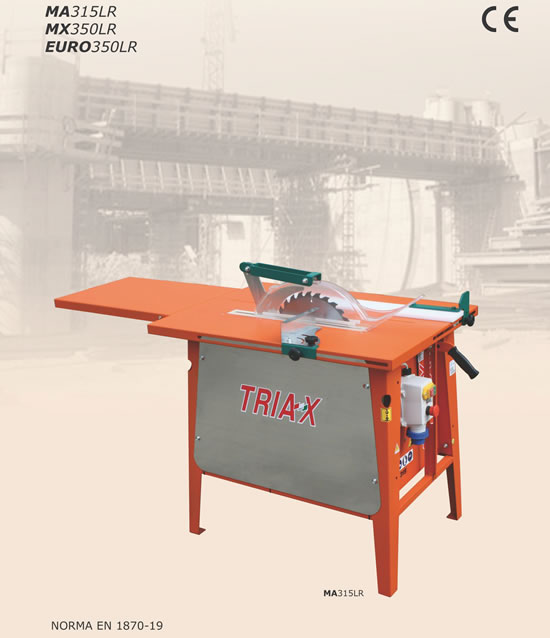 QUALITY AND SAFETY OF TRIAX CIRCULAR BENCH SAW:
TRIAX electric table saws are 100% Made in Italy!.
Produced completely in our factory (machining with CNC machines, welding, painting, assembly, etc.) and also the components of first choice we buy (electric system and electric motor) are all made in Italy from trusted suppliers with which we cooperate for many years.
Additionally, all machines are thoroughly tested before shipment, and this gives us the certainty that we have very high and constant quality standards over time.
This jobsite table saw is designed for cutting wood, wooden materials and mainly wooden boards, site panels, wood shuttering planks, wooden or laminar structural works and formwork panels in the building sector.
The main features of these construction site carpenter electric saws are to be very quick to set up, easy to maintain and above all safe to use.
SITE TABLE SAW DESCRIPTION:
The circular bench saws for wood are built on a very robust frame composed by a bent sheet metal plane welded to four legs.
The transmission of the motion from the electric motor to the Widia blade is obtained with a reliable system of pulleys and V-belts that has the following advantages:
conferring upon a great cutting power to the machine.
makes it safer because the trapezoidal belts can slip in case of problems arising from the incorrect use.
avoid the transfer of the motor vibrations to the disc also when working at maximum cutting height.
The use involves the dexterity of the operator which, after the machine has been fitted (while it is turned off), places on the work surface the wood panels to be cut, starts the electric motor and performs the cut by pushing the wood piece with the appropriate security pusher supplied with the machine.
The circular table saw is provided with an IP65 electrical panel where are located the power outlet and the machine controls (start button and emergency button).
JOBSITE TABLE SAWS PRODUCED VERSIONS:
All TRIAX electric bench saws are designed and built according to the criteria necessary to meet safety requirements established by current norm EN1870-19(2014).
• NUOVA CAMET