Formwork Cleaning Machine
Machines to clean panels and boards for formwork
LIMPIA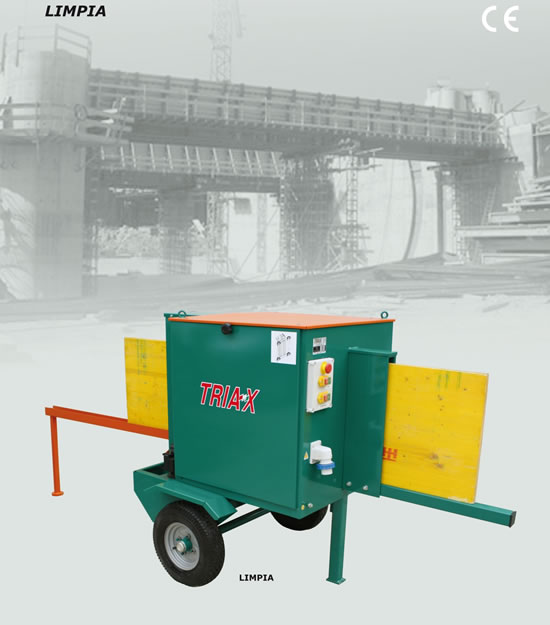 QUALITY AND SAFETY OF TRIAX FORMWORK CLEANING MACHINE:
TRIAX builds formwork panels cleaners since many years, they are designed according to principles that make them reliable, fast and easy to use things that are extremely important on construction sites.
Our wooden shuttering cleaning machines are absolutely 100% Made in Italy in fact, we produce in our factory the whole machine (machining with CNC machines, welding, painting, assembly, etc.) and the components we buy (electric motor, hydraulic unit, electrical parts) are all made from trusted Italian suppliers with whom we work since long time.
All machines are carefully tested before shipment so all this makes us certain that we have very high and consistent quality standards which TRIAX considered a primary matter.
ELECTRIC FORMWORK CLEANER DESCRIPTION:
It is used to clean formwork panels and wooden shuttering boards used for reinforced concrete formworks in building and construction sites.
Easy to operate, cleans formwork planks and soak them with disarming oil preparing them for next use.
Through the use of our formwork cleaning machines you can postpone much the need to buy new panels and planks.
All electric controls work with low voltage 24V according to current regulations.
PANEL CLEANERS PRODUCED VERSIONS:
All TRIAX plywood cleaners are designed and built according to the criteria necessary to meet safety requirements established by current Machinery Directive 2006/42/EEC.